I have some very sad news. On Tuesday night December 20th we lost a fellow skateboarder. While Joe Torres and his friend Chris Sellers were skating on a sidewalk near Bulverde Rd. and Thousand Oaks a vehicle lost control and hit both skateboarders. Unfortunately, Joe was killed in the incident. The driver fled the scene, but eventually turned himself in. You can read more about the accident here:

http://www.mysanantonio.com/news/metro/stories/MYSA122205.05B.skateboarder_death_folo.f36bef5.html


Obviously, this is a tragic loss for the family. A Sunday night vigil and fundraiser will be held at the SA Skatepark from 7pm to 9pm. All proceeds will go to help the family of Joe Torres.

For those that didnt know Joe Torres, he was sixteen years old and his goal in life was to be a professional skateboarder. I didn't know Joe personally, but he skated at our LBJ contest last year. Ill never forget his run. He attempted to ollie the entire pyramid to flat at LBJ. A trick I've never seen anybody make. Unfortunately, for Joe he went too fast, too high and too far. He ended up flailing through the air and landing hard on his side. It was probably the worst slam I've seen anybody take. The crowd went silent. Most skaters would have crawled away in pain, but Joe got up, shrugged it off and finished the rest of his run. Needless to say I was very impressed with his skills that day. Joe rode for the local company named Deadwood Skateboards. You can check out their website for more info:

http://www.deadwoodskateboards.com/aboutdeadwood.html

And here is a pic from that day at LBJ.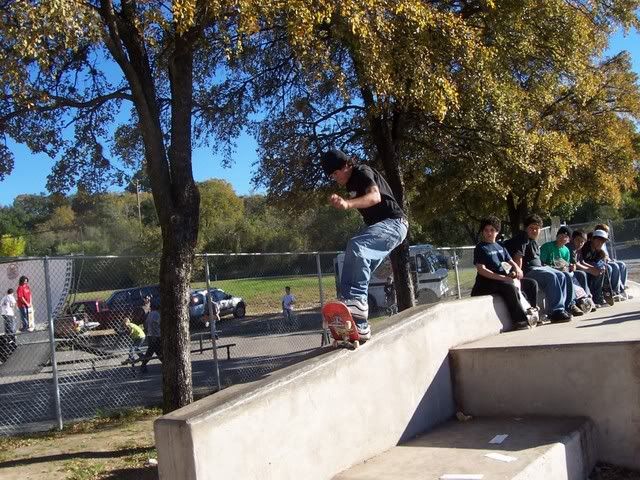 San Antonio Skate Pictures :: LBJ Contest 11/17/04


Please keep the Torres family in your prayers this Holiday Season.

Carter Dennis
The San Antonio Skatepark Association
www.sk8sa.org
carter@sk8sa.org




This was written by Carter, not I!